Policy Debate
Research | Argumentation | Persuasion
Designed by successful coaches with teaching and classroom experience, our program offers a fast-paced, yet engaging curriculum that equips students with the skills they need for success at their first policy debate tournament.
From day 1, we emphasize debate fundamentals, introducing students to argumentation theory and providing students with a carefully constructed evidence packet designed to help guide them through the topic.
Morning sessions are spent covering new debate concepts and topic information through engaging lectures and interactive lessons. In the afternoons, students engage in debates, applying skills from earlier lessons. Evenings are reserved for students to work one-on-one with the instructors, reviewing concepts, delivering practice speeches, or discussing new arguments.

Level: Beginner
Beginner or no policy debate experience
Summer 2020 Sessions:
Session 1: Sunday June 28, 2020 through Friday July 10, 2020
Session 2: Sunday July 12, 2020 through Friday July 24, 2020
Tuition:
Online: $999
Commuter: $2,199
Resident: $3,299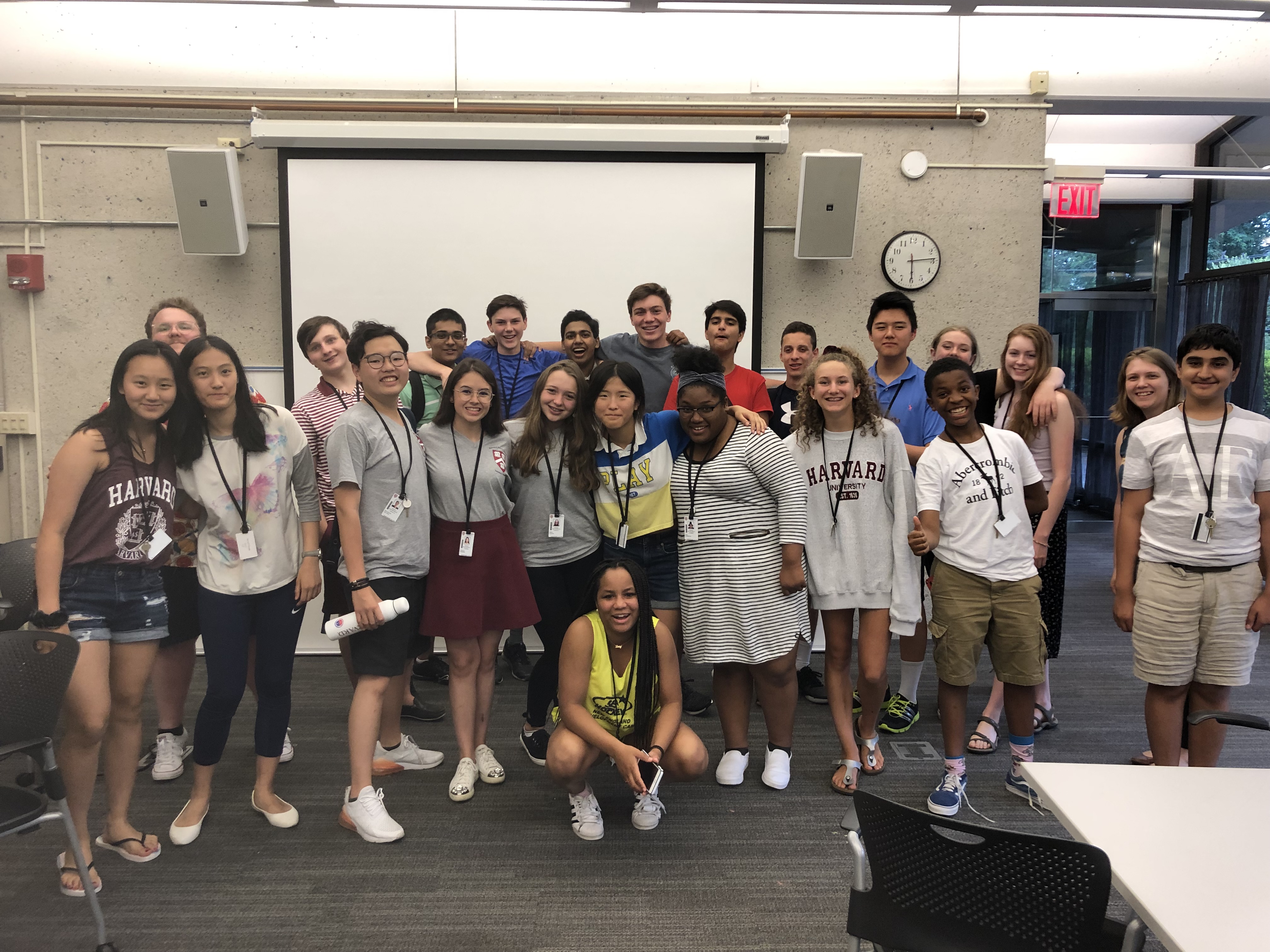 We will offer a comprehensive curriculum that prepares students to debate and research the upcoming year's topic along with perennial debate arguments. Each lab will focus on the three pillars of research, argumentation, and persuasion. Students will conduct their research using the Harvard Libraries, the largest private library in the world; will learn to construct strategic, compelling arguments; and will practice speaking with clarity, conviction, and passion.
Why Choose Harvard?
At the HDC Summer Workshop in Policy Debate, students will:
Work with an experienced, proven, dedicated, and diverse faculty.
Be divided into labs of approximately 16-20 with 3-4 lab leaders each. 
Participate in at least 16 practice rounds, 6 of which will be during the camp tournament in the final week.
Study at a world-renowned university in a college setting.
Have access to the world's largest private library system.
Spend four weeks in Cambridge, MA, a thriving, safe, and vibrant university town.
Live in an a diverse environment, with students not only from all over the United States but also from all over the world.
Attend an exclusive session with a Harvard Admissions officer
Stay in one of the nicest Harvard dormitories (Currier House), with all single rooms, under the supervision of professional educators.
Sample Daily Schedule
9:00a-10:00a Morning Topic Lecture
10:00a-12:00p Morning Skill Lesson & Activity
12:00p-1:00p Lunch
1:00p-2:45p Afternoon Lab I or Practice Debate
2:45p-3:15p Afternoon Break
3:15p-5:00p Afternoon Lab II or Practice Debate
5:00p-7:00p Dinner Break
7:00p-9:00p Evening Lab or Practice Debate
Key Skills
Learning Objectives
Strategy
Constructing strategic arguments
Research
Advanced research practices
Argumentation
Line-by-line argumentation
Delivery
Persuasive and clear speaking
Preparation
Tournament preparation techniques
Excellent Teaching Staff
Faculty
Maggie Solice
Novice Debate Curriculum Coordinator
Maggie is the Associate Director of Debate at Harvard University. She has found success in coaching, both at the high school and collegiate level. In high school, her teams have advanced to the late elimination rounds of nearly every major national tournament, including, Harvard, Emory, the University of Kentucky, the University of Michigan, the University of Texas, and the NDCA National Championship. As a debate coach at Harvard, her teams have won multiple national college tournaments, advanced to the late elimination rounds of the National Debate Tournament (NDT), and been awarded The Copeland Award for the most successful season performance.
Maggie has always enjoyed working with young high school students, and in the summer of 2018, she decided to establish the HDC novice policy debate workshop. While many debate camps offered an excellent camp experience for already established debaters, she felt that many students missed out on the joy of debate because there weren't enough resources for those that didn't already have successful programs back home. To remedy this, she, with the help of nationally successful high school coaches, worked to develop a program devoted entirely to the success of young, inexperienced students.
In the classroom, Maggie emphasizes active student engagement and participation. Her curriculum focuses on activity based learning, working to build a strong foundation in argumentation fundamentals and instilling confidence in young debaters.
Austen Yorko
Lab Leader
Austen Yorko is a teacher and policy debate coach at Montgomery Bell Academy (MBA) in Nashville, TN. He has successfully coached teams advancing to the deep elimination rounds of nearly every major national high school debate tournament in the country. In the 2018-2019 season alone, his teams have won 1st place at Emory, Berkeley, University of Michigan, St. Marks, the Greenhill Round Robin, and the Glenbrooks. Most recently, his team won the National Championship tournament hosted by the prestigious National Debate Coaches Association (NDCA).
Prior to arriving at MBA, Austen was also a successful policy debater. He started his debate career at Wooster High School in Wooster, Ohio before continuing at Trinity University in San Antonio, Texas. During his time at Trinity, Austen cleared to the elimination rounds of multiple prestigious tournaments and earned a qualifying spot to the National Debate Tournament (NDT) 3 out of his 4 years.
In his current position at MBA, Austen employs a student-centric approach to coaching and teaching. In his own words, he explains, "I believe that the best route for training and encouraging young debaters is to listen to their needs and wants, figuring out how to best maximize the skills and styles that the individual students are most comfortable with and most excited about learning."
Harry Yu
Lab Leader
Harry Yu is the Director of Forensics at Stratford High School in Houston, TX. He brings over a decade of coaching success and classroom experience. He has coached finalists at TFA state, Harvard, UT, Grapevine, and NSDA nationals in multiple events and thrives in an environment devoted to young student success. With a background in both LD & Policy Debate, he offers students unique insight and strategies for winning debates in any event.
Tripp Rebrovick, PhD
Guest Lecturer
Tripp Rebrovick, PhD, is the Director of Debate at Harvard University. He has a BA from Harvard and a PhD from Johns Hopkins University. Tripp has over twelve years of experience teaching at summer workshops and has worked with students of all skill levels. While a debater, he was the top speaker at the TOC, winner of NFL Nationals, and a four-time elimination-round participant at the NDT.
Ayush Midha
Guest Lecturer
Ayush Midha is an assistant debate coach for the Harvard Debate Council. He attended and debated for Harvard College, where he was consistently ranked as a top debater. He recieved the Copeland Award for best overall seasonal performance and debated in the deep elims of the NDT 3 years in a row. There are few college policy debate tournaments that he hasn't won. 
In addition to his competitive record, he has proved successful as a coach. For the past 3 years he has coached at The Harker School, where his teams have advanced to the elimination rounds of most major national tournaments. This will be Ayush's third year working with the HDCSW.
Sherry Hall
Workshop Director & Guest Lecturer
Sherry is a lifelong debate coach, serving as Coach of Debate at Harvard University since 1987. She maintains an active presence in the high school forensics community where she has taught at many summer debate camps, directed the Harvard National Invitational Forensics Tournament, and served as editor-in-chief of Planet Debate. Sherry is  a member of the Board of Trustees of the National Debate Tournament and spearheads the latter's Healthy Debater Initiative.
Register for 2020
Applications are due by May 15, 2020.